Stretch and Fly Yoga Dance: The Dance of New Beginnings
Join us for an inspiring bittersweet Stretch and Fly Yoga Dance as this is Jennifer and Liziah's last joint class before Jennifer's move to California. Stretch and Fly is an all levels, body friendly, healing dance form that incorporates yoga poses and simple dance moves. All Levels Welcome!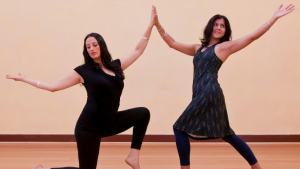 When: Sunday October 8th, 2:00 pm
Where: Balance Studio, 418 N. 35th Seattle, WA 98103
Cost: $15.00
Register: liziah@liziahtherapies.com or call 206-240-8054
Drop ins Welcome!
Yoga and Sound Healing with Daniella White
Restore, Renew, Relax!
Join Liziah and Daniella White for this beautiful, enlivening workshop – a combination of yoga and sound healing. Liziah leads an all-levels yoga flow while Daniella plays crystal bowls and gongs, inspiring powerful, restorative energy to flow within. We conclude with a 30 minute Sound Bath, resting in Savasana, while Daniella plays her bowls and gongs.
When: November 15th 7:45-9:00 pm.
Where: Phinney Ridge Yoga-6615 Dayton Ave N, Seattle WA 98103
Cost: $30 pre-register  $35 day of
Register: email: liziah@liziahtherapies.com or call 206-240-8054